Mini Meet West '98
Happenings
photos by John Goolevitch & Steve Malins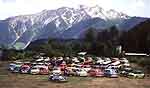 click picture for LARGE image
---

Some of us on the way to Whistler, with the usual mishaps. But to Craig of Craig's Automotive?
---
Monday, registration sign-in started off busy, and got busier. With another 30 people registering on the spot, with another 15 Minis. So in total we had 54 Minis in the Concourse, and 133 people registered.
---
Tuesday was Concourse day, we all drove to Pemberton and displayed our little gems. The top left photo is compiled of 2 pictures stitched together. The second, ME the WebMINIster, talking to the one on top of Larry's Camper..
---
Wednesday was Slalom in the morning. On the left is Steve Malins in Rob Fram's other car. Rob Fram in the middle had the fastest time of the day in his 1380 Moke. Marcel Chichak on the right getting ready for his run. Then far right, Adam's leap of faith!
---
Just before lunch, WhistlerWeb came up to do a shoot of a circle of Minis. Here are some shots during the 22 photos that are stitched together and animated. You can see this on the "first pics of Mini Meet West" page. This picture is compiled out of 3 photos stitched together.

---
Parade was just after lunch. But they got ushered into line in the parade. So instead of 6 Minis that were asked for in the parade, we ended up with over a dozen!
---
The Funkhana was late starting because most of the Minis were stuck behind roadblocks for the parade. Top 3 pictures are with Rob Fram and Chris Higgins. Bottom left is the WebMINIster John Goolevitch and his son Adam. What? The WebMINIster bowling with rubber doughnuts with aluminium trumpets as pins? But then there is Peter in the bottom photo who overshot the whole thing! And Sharon running for the silver.
---
There was also a meeting of "Mini Internet International Mail-List" members. Which included from left to right, Jim Neaves, John Goolevitch, Shaun Krislock, Kelly Mascher, Pat Liley, Marcel Chichak. Kenn Lively was off at Craig's Automotive getting his head fixed (cylinder head that is). Karl Strauch left early to get back east. The pic on the right was supposed to be a 2 photo compilation, but I ran out of film (groan). Sorry to those on the right.
Members of the Mini Internet International Mail-List at Mini Meet West '98
---
Thursday was the Rally in the morning, which turned out to be very difficult. Half of the field gave up. But we all met later that night at the Banquet for the Trophies, and Awards.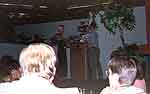 ---